Therapeutic Interventions
PLYOMETRIC BOXES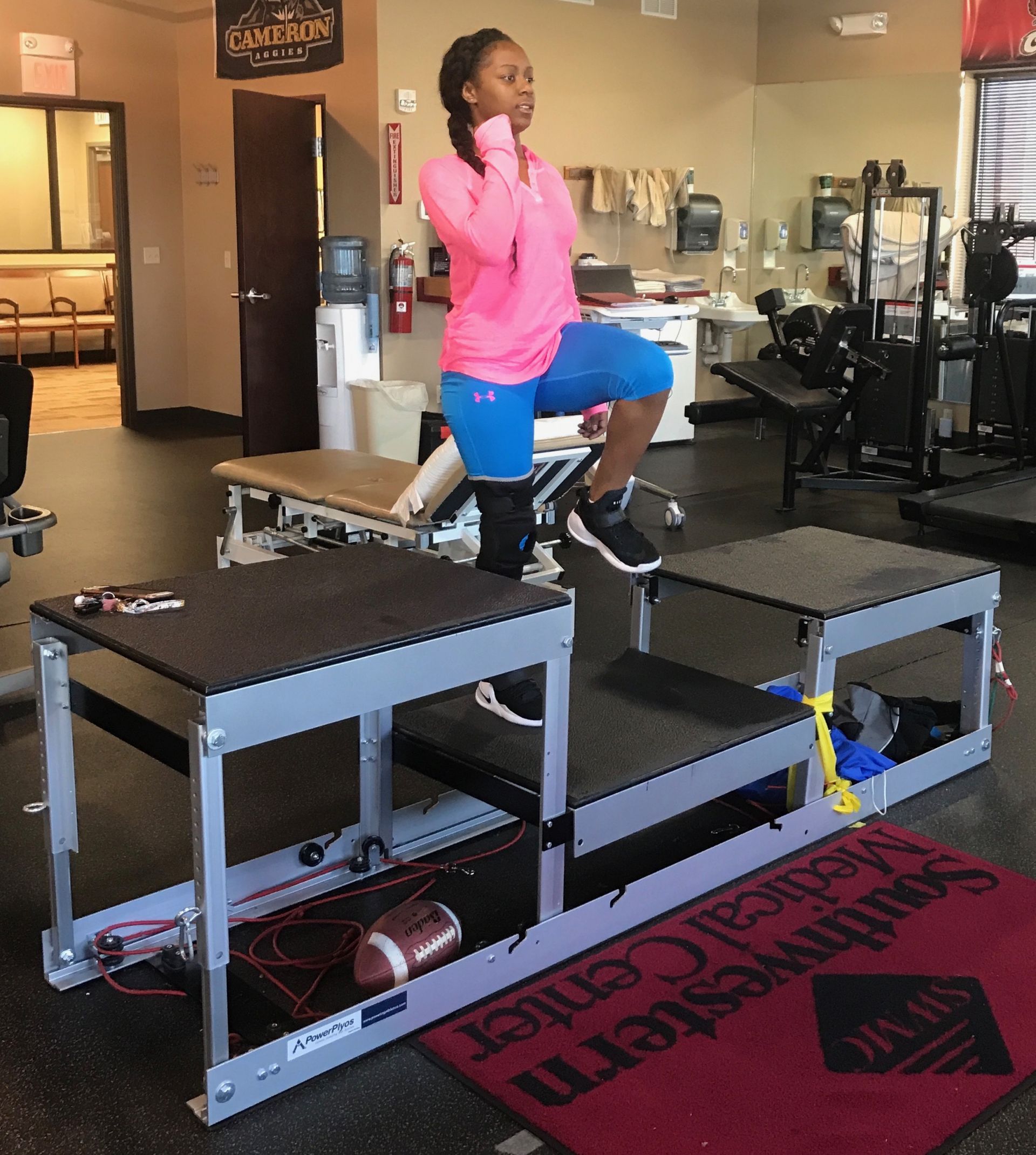 Plyometric boxes allow for our therapists to prepare athletes to return to explosive movements, decelerate their bodies safely when landing, and restore many other sports related movement patterns.
Our equipment allows therapist to work on multiple aspects of an athlete's rehabilitation. Here, this athlete is working on balance, strength, NM control, and re-establishing motor programs used in athletic movement patterns.
AQUATIC THERAPY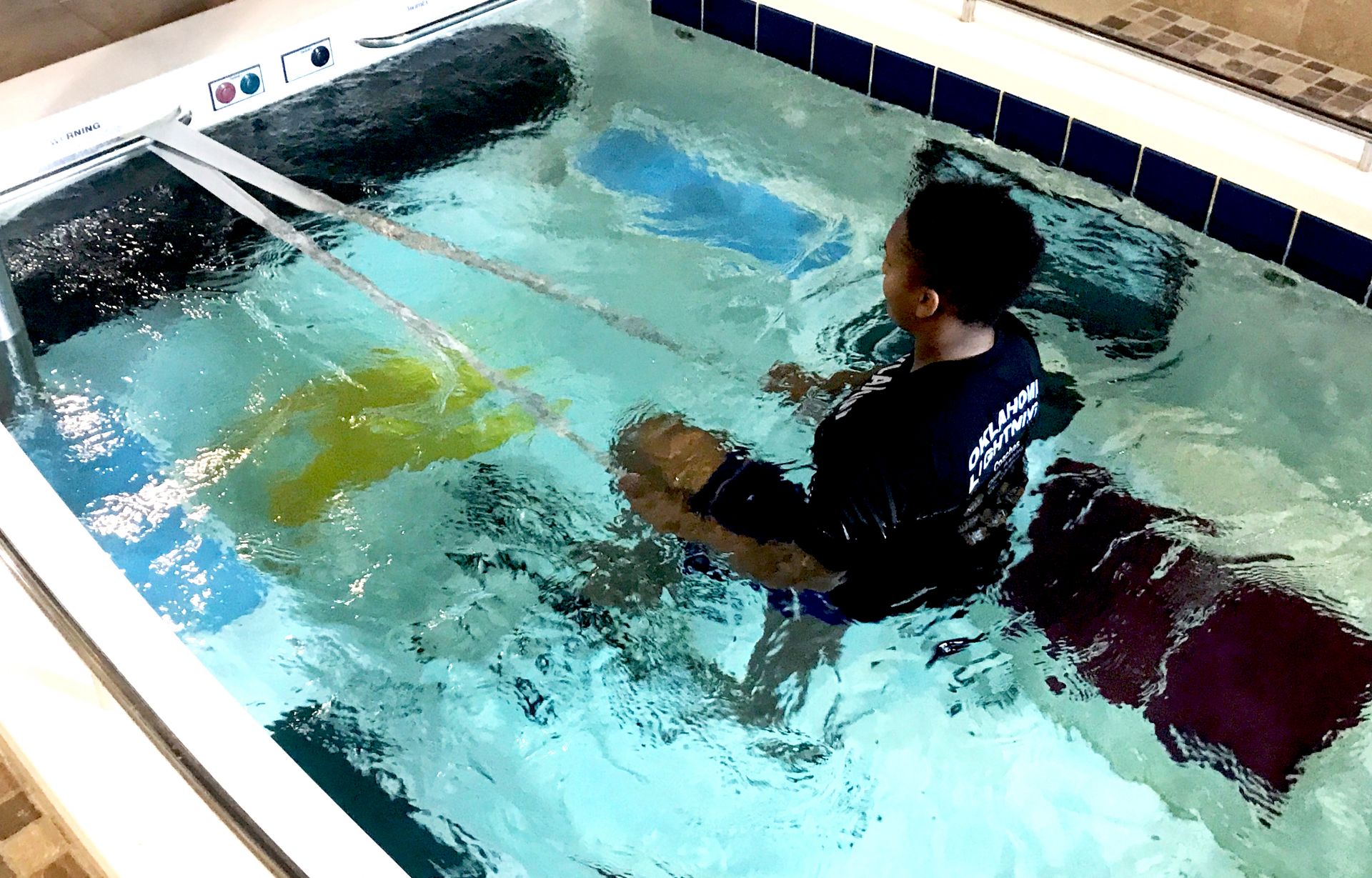 Heated Pool — Our pool is heated to 94 degrees which increases muscle and joint flexibility, decreases muscle spasms and muscle tone, and improves circulation.
Hydrostatic Pressure — This inherent property of water works to decrease swelling, reduce venous pooling, and even strengthens inspiratory muscles.
Water Viscosity — Water viscosity provides resistance to movement which is critical for rehabilitating strength and endurance for our clients.
High Powered Jets — Jets positioned strategically in the pool allow patients to work on balance reactions or improve strength and endurance when walking or swimming against the current.
Combining TheraBand resistance exercises while walking against jet propelled resistance adds a unique balance and strengthening experience for our athletes at the Center for Sports and Rehabilitation.
Patients at the Center for Sports and Rehabilitation are welcome to take advantage of our heated aquatic therapy pool at our therapists' discretion.
TRIGGER POINT DRY NEEDLING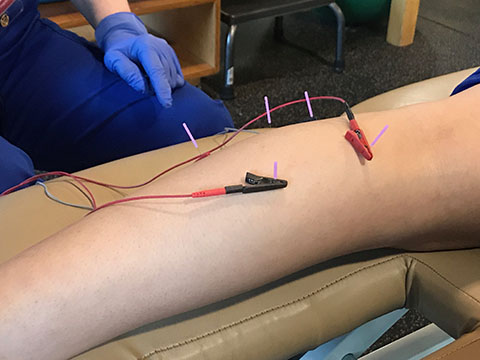 Dry needling is a form of manual therapy offered at the Center for Sports and Rehabilitation. Research has shown dry needling can reset active trigger points, improve tissue healing environments, improve pain levels reported by patients, and improve range of motion.
In this picture, dry needling is being used in cohesion with electrotherapy. This combination can amplify pain relief, reduce muscle spasms, and/or re-educate the neuromuscular connection at desired motor end plates.
INSTRUMENT ASSISTED SOFT TISSUE MOBILIZATION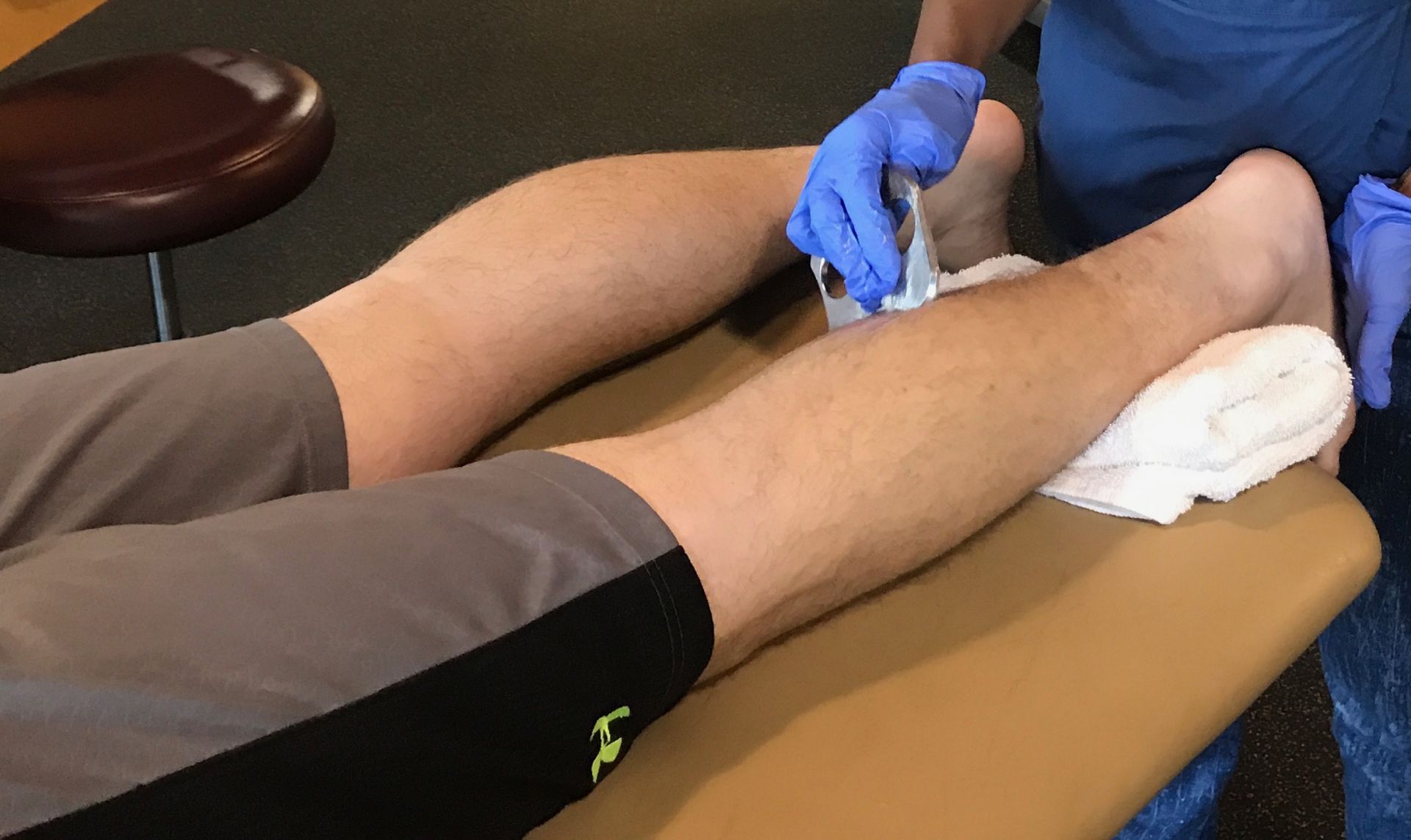 Instrument Assisted Soft Tissue Mobilization (IASTM) is another form of manual therapy provided by our therapists. IASTM techniques allow our therapists to directly impact the healing environment encompassing the injured area.
Treatments consisting of IASTM have been shown to improve range of motion, strength, and pain perception in patients. Here you can clearly see one way in which our therapists can impact the healing environment.
The increased redness seen in the treated area improves tissue healing properties by increasing blood flow and other healing properties to the region.
VESTIBULAR REHABILITATION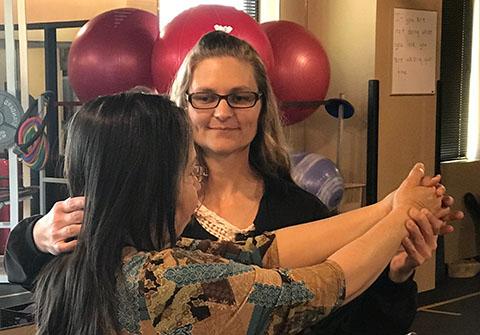 Vestibular related conditions are not often thought of in relation to physical therapy intervention.
However physical therapy has been proven to be a crucial aspect of patient care regarding vestibular hypofunction, benign paroxysmal positional vertigo (BPPV), dizziness and more.
At the Center for Sports and Rehabilitation we have therapists trained to rehabilitate these types of conditions from a patient-centered approach.
Custom Fabricated Orthoses
We provide custom fabricated orthoses (splints) to meet the unique needs of each client, in terms of both purpose and fit. These splints accommodate variations in anatomy and joint alignment. The thermoplastic material used is easier to keep clean than off-the-shelf alternatives. As treatments progress, the splints can continue to be adjusted and modified for proper fit and function.
Hand Therapy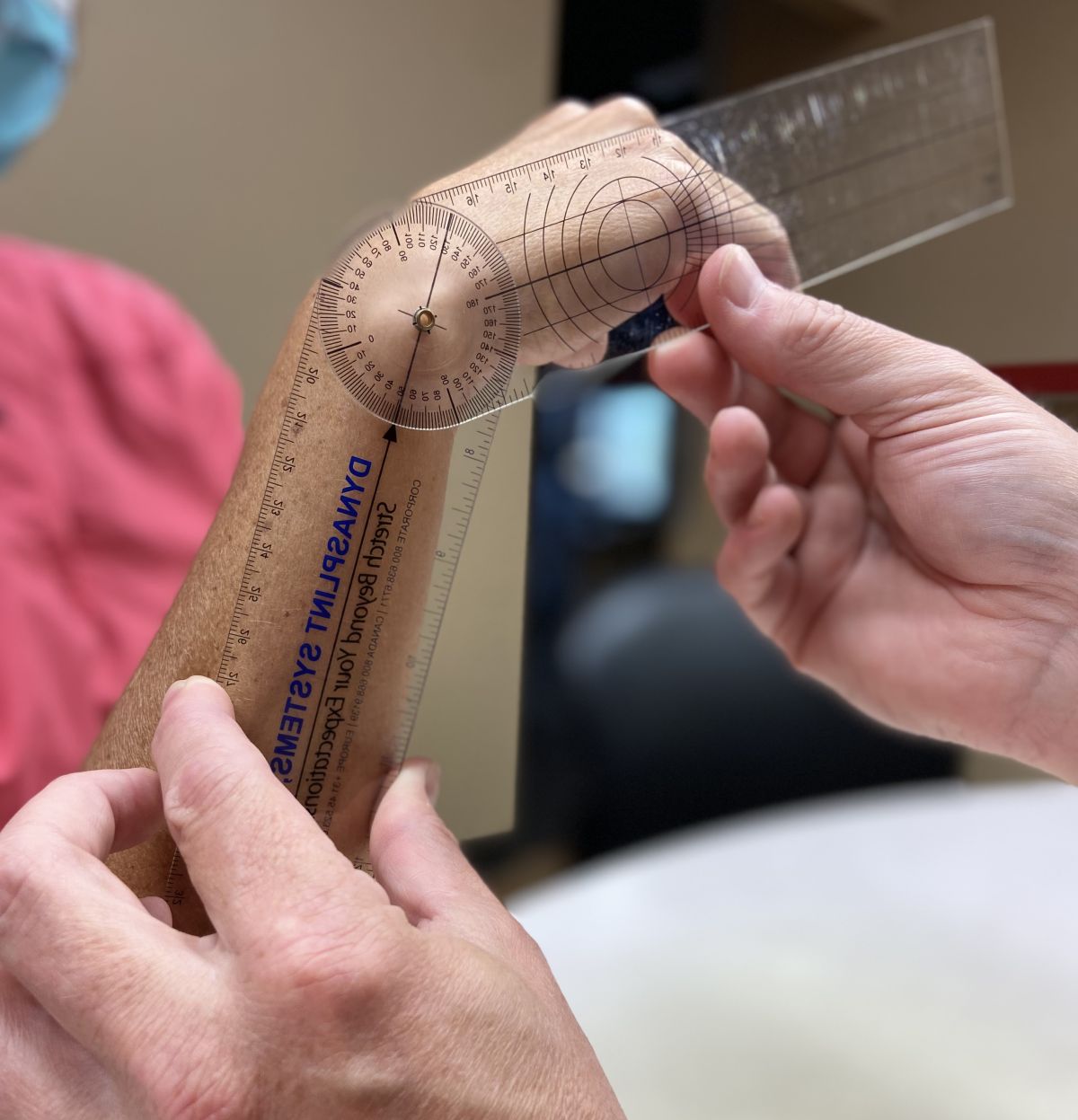 At the Center for Sports and Rehabilitation, our clients receive individualized, upper extremity treatments related to injury, surgery, disability and disease.
These customized treatment plans are based on proven scientific research. By initiating therapy sessions promptly after an injury or surgery, patients can significantly reduce complications related to scar tissue, joint stiffness and nerve irritation.
Our specialized staff includes a Certified Hand Therapist (CHT). This nationally recognized designation means the therapist has at least five years and 4,000 hours of clinical practice in this specialty.