Southwestern Medical Center Honors Healthcare Heroes During May Observances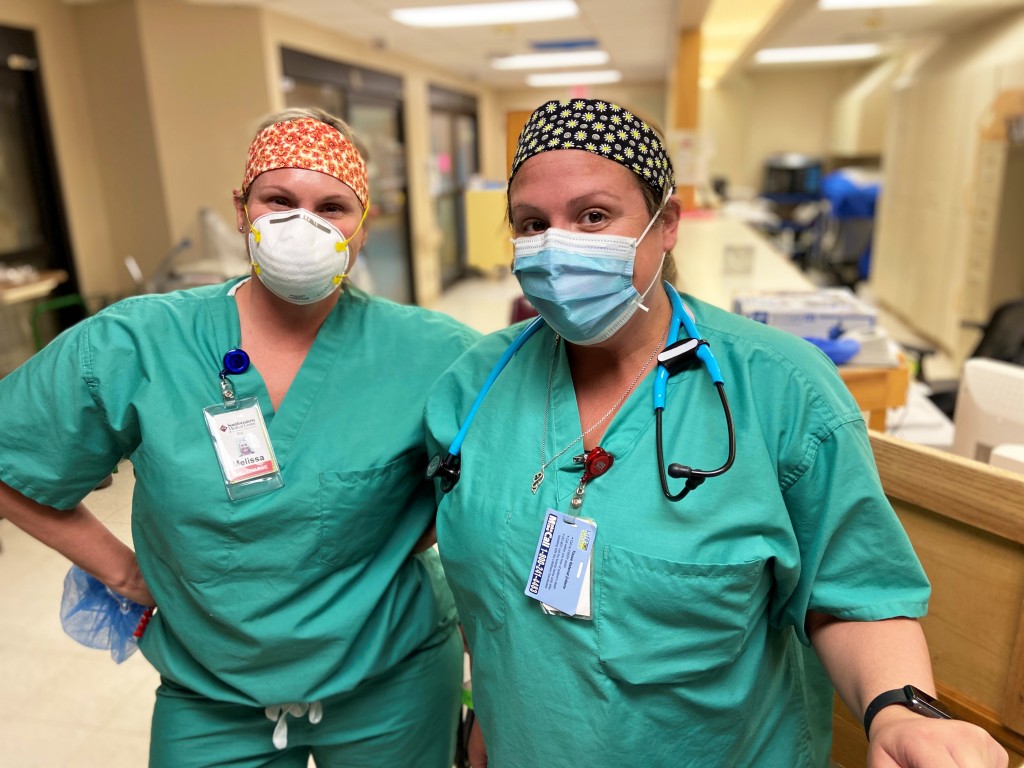 Southwestern Medical Center is proud to join the American Hospital Association, American Nurses Association and healthcare organizations around the country in celebrating healthcare heroes who dedicate their lives to taking care of people in their greatest times of need. National Hospital Week, National Nurses Week and the Year of the Nurse provide opportunities to pause and honor the millions of healthcare professionals for the positive difference they make in the communities we serve.
"As our community continues the fight against COVID-19, the pivotal role our healthcare workers play in the well-being of society is clearer than ever," said Elizabeth Jones, chief executive officer (CEO) of Southwestern Medical Center. "Their tireless efforts on the front lines of this disease and their commitment to quality care and patient safety year-round are critical to our mission of Making Communities Healthier. We proudly honor these heroes during these national observances and commend their inspiring efforts to serve others."
This year, the World Health Organization (WHO) declared 2020 as the Year of the Nurse. It is a well-deserved recognition that could not have come at a more appropriate time.
"Our heroic nurses are always on the front lines of caring for the sick and injured," said Jayne Thomas, chief nursing officer (CNO) of Southwestern Medical Center. "During our fight against COVID-19, our nurses have truly stepped up and are making countless sacrifices daily to ensure the safety of patients and each other, and to help protect our community. They are heroes in every sense of the word. Their compassion, clinical expertise and servant leadership are fundamental to our ability to provide the high-quality care our patients have come to rely on. I am so proud to honor their hard work – and not just during Nurses Week, but year-round."
National Hospital Week, May 10-15, and National Nurses Week, May 6-12, are traditionally events Southwestern Medical Center would mark with week-long activities and recognition. Considering the current conditions, traditional events and festivities have been postponed to later in the year when conditions are better suited for celebration. In the meantime, community members are encouraged to leave a special note of thanks for hospital employees at www.thankahealthcarehero.com.
The hospital plays an important role in supporting the health and vitality of the Lawton Fort Sill community, all year long. From welcoming 32 new providers and expanding services, to investing more than $2 million in new clinical technology and facility improvements, Southwestern Medical Center is committed to meeting the evolving health needs of the community and enhancing access to high quality care close to home.
As one of the region's economic leaders, the organization employs more than 570 team members and contributed more than $1.1 million in taxes to the local and state economies last year Additionally, we are honored to be able to support a number of our community organizations in their efforts to enhance the place we call home, including Cameron University, Great Plains Technology Center Foundation, Hearts That Care Clinic, Lawton Public Schools Foundation, Marie Detty, United Way and many more. In 2019 alone, Southwestern Medical Center provided more than $22.6 million of charity and other uncompensated care, regardless of patients' ability to pay.
"Lawton Fort Sill is a wonderful place to call home, and we are privileged to have a significant impact on its health and economic well-being," said Albert Johnson, Jr., chair of Southwestern Medical Center's board of trustees. "We are fortunate to have on our team some of the region's most capable healthcare professionals working on the frontlines. As we commemorate these national observances amid unprecedented challenges this year and begin to look to the future, we are aware that healthcare – like other aspects of life – might look a little different. What will not change, though, is our mission and our commitment to this community. We will continue to put the health and well-being of our neighbors first, ensuring safe places of care and a healthier community for us all."
Read All Posts